Season 4 (Frontier) Enemies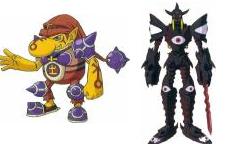 Evil Spirits
The 5 evil spirit digimon weren't humans, just packets of data (except for Kouichi). Cherubimon commanded them to destroy the Digi-destined. They have a human and a beast form, just like the humans, and were the main enemies is the first half of Season 4. In the end, they were defeated by the Digidestined and Kouchi's spirit was purified.




Cherubimon
The (seemingly) main villain of the season, he commanded the 5 evil spirits to attack the humans. He was once a god, like Seraphimon and Ophanimon, but Lucemon turned him evil. He was defeated by EmperorGreymon and MagnaGarurumon.



The Royal Knights (Dynasmon and LordKnightmon)
They were the henchmen of Lucemon. They destroyed sections of the Digital World and sent the data to Lucemon so that he could revive himself. They were too powerful for the humans at first. In the end the Digidestined managed to defeat them, but not before Lucemon had been revived.




Lucemon
In the past, Lucemon was good and stopped the fighting between human and beast digimon. But later, obsessed with his power, he turned evil. It took the strength on the 10 Spirit Warriors to defeat him, and they perished in the process. He was the final enemy and evolved into Lucemon Satan Mode after he had been reborn. Soon after, he evolved into Lucemon Falldown Mode and only the strength of all the spirits combined into Susanoomon managed to defeat him.