Digimon The Movie Part 3: Hurricane Touchdown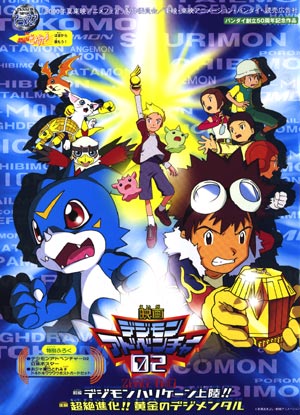 Japanese Release: July 8, 2000
English Release: October 6, 2000 (as part of Digimon: The Movie)
Length: 65 Minutes

The 3rd Digimon movie takes place in the middle of Season 2 and was part of Digimon: The Movie outside of Japan.

Story: T.K. and Kari are in New York when they see a Digimon named Terriermon fighting an evil Digimon, Kokomon, who is causing chaos all around New York. Kokomon escapes and they tell Davis, Cody, and Yolei to come to the USA to help them track him down. Davis the others fly to the USA and meet up with Willis, who is the owner of Terriermon. Davis finds out that Kokomon is Terriermon's twin brother and that he was Willis's partner too, before Diaboromon (from the second Digimon Movie) infected him and turned him evil. Soon after that, Kokomon attacks them and digivolves into Antylamon. The digidestined almost defeat him but then he digivolves to Kerpymon and turns them all into little children. It seems that Kerpymon can't be defeated because whenever he gets damaged, he simply regenerates his body. T.K. and Kari finally arrive with Seraphimon and Magnadramon, the mega forms of Patamon and Gatomon, and release the Golden Digi-Eggs which let Veemon and Terriermon Golden Armor Digivolve into Magnamon and Rapidmon. Kerpymon eats them, but they find the virus inside him and destroy it. This destroys Kerpymon too, but he is soon reborn as a Digi-Egg. As the digidestined say their goodbyes, Willis kisses Kari and Davis is jealous. Then the digi-destined go back to Japan.