Digimon The Movie Part 1: Digital Adventure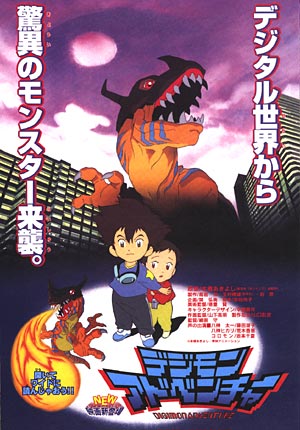 Japanese Release: March, 1999
English Release: October 6, 2000 (as part of Digimon: The Movie)
Length: 20 Minutes

The first Digimon movie takes place before Season 1, when the Season 1 Digidestined were young children. It explains why the digi-destined were chosen to save the Digital World. It was part of Digimon: The Movie outside of Japan.

Story: One day, a digi-egg mysteriously appears out of Tai's computer and hatches into Botamon. Tai and his sister Kari feed it and take care of it. Soon, Botamon evolves into Koromon and then into Agumon. At night, an evil Digimon, Parrotmon, appears out of the Digital World. Agumon digivolves into Greymon and defeats Parrotmon. Then, both of the Digimon disappear. The kids that witnessed the fight became the Season 1 Digidestined.