Digimon Movie 7: Revival Of The Ancient Digimon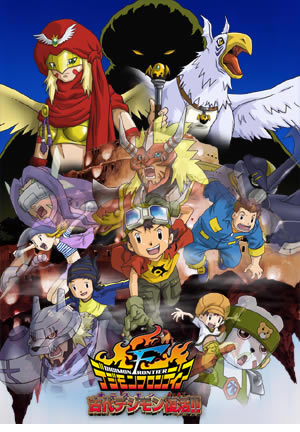 Japanese Release: July 20, 2002
English Release: October 2, 2005
Length: 40 Minutes

The movie takes place close to the beginning of Season 4.

Story: The Season 4 Digi-Destined are heading to the Forest Terminal when they are swept onto The Wandering Island, a floating island that travels around the Digital World. Takuya, JP and Tommy land in the Human Digimon's part of the island, and are helped by Kotemon. Kouji and Zoe land in the Beast Digimon's part and are helped by Bearmon. The Digi-Destined soon reunite and learn that the Human Digimon and the Beast Digimon are fighting a war against each other with giant tanks. Bearmon and Kotemon show the children a cave where there is an ancient puzzle. Takuya thinks that once the puzzle is solved, the fighting between human and beast Digimon will stop. Then, DinoHumon and Grizzmon, Kotemon's and Bearmon's older brothers, arrive and fight each other. Takuya and Kouji stop the battle, but the Human Digimon and Beast Digimon don't want to stop their conflict. Later that night, HippoGryphomon and Darcmon, the leaders of the beast and human Digimon, declare war on each other and a big battle starts. JP, Zoe and Tommy go into the cave to try to solve the puzzle while Takuya and Kouji try to stop the battle. The puzzle is almost complete, but one piece that looks like Darcmon's staff top and HippoGryphomon's pendant is missing. Meanwhile, Zoe and JP see Darcmon transform into HippoGryphomon in a back alley. They digivolve and tell all the human and beast Digimon that both their leaders are actually the same person. Darcmon reveals that she caused the battle to gather Digicode from the Digitamas that Digimon become when they die and resurrects Ornithmon, an ancient bird Digimon, with the Digicode she gathered. Bokomon finds that she is actually Murmuxmon, a digimon who can assume any form. The Digi-Destined try to defeat him, but can't even harm him. Murmuxmon tries to destroy the ancient puzzle, but Kotemon sacrifices himself to protect it. AncientGreymon and AncientGarurumon are reawakened. The Digi-Destined team up with all the tanks and destroy Murmuxmon. Then AncientGreymon and AncientGarurumon destroy Ornithmon and then return to sleep. The human and beast Digimon are now at peace with each other. The Wandering Island lands on the Digital World and the Digi-Destined continue on their journey to the Forest Terminal.
Interactive

Affiliates



Networks

PoeNet

Topsites

free hit counter


The title and content of this site is copyright Kendogarurumon ©2003-2006 unless posted otherwise. Please ask me before taking anything from the site, don't steal content. KDD is in no way affiliated with the creators of Digimon or the companies that have something to do with it.