Digimon The Movie Part 2: Our War Game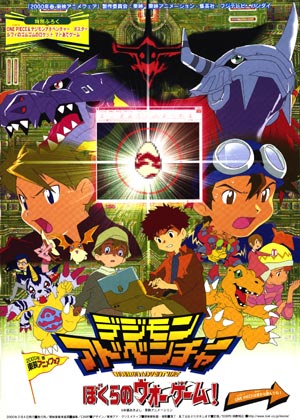 Japanese Release: March 4, 2000
English Release: October 6, 2000 (as part of Digimon: The Movie)
Length: 40 Minutes

The movie takes place after the defeat of Apocalymon and was part of Digimon: The Movie outside of Japan.

Story: One day, Izzy discovers a virus that's invading the Internet and rushes over to Tai's house. The virus turns out to be a Digimon, Keramon. They contact Gennai and he sends Agumon and Tentomon to fight Keramon in the centre of the internet. They fight him, but Keramon digivolves to Chrysalimon and then Infermon, an ultimate Digimon. Infermon attacks the phone company and Tai and Izzy are disconnected. They try to reach all of the Digidestined, but only make contact with Matt and T.K., who are at their grandmother's house. They get to a computer and send Gabumon and Patamon to the Internet to help. The digimon evolve, but they turn out to not be strong enough to defeat Infermon. Then Agumon and Gabumon warp-digivolve to their Mega forms, WarGreymon and MetalGarurumon. But Infermon digivolves to his Mega form, Diaboromon. He defeats the two Megas and Tai accidentally crashes his own computer. When they get back, WarGreymon and MetalGarurumon are very badly injured and slow because e-mails being sent by people all over the world watching the battle are slowing them down. Diaboromon is creating clones of himself and has fired two nuclear missiles. But then, miracuclously, Tai and Matt enter their computers and their hope and love for their Digimon produce the power for Wargreymon and Metalgarurumon to DNA-digivolve into Omnimon. Omnimon destroys all the fake Diaboromons until only the real one is left. But Diaboromon is too fast, and Omnimon can't catch him before the missiles explode. Then, Izzy forwards all the emails from Digimon fans all over the world to Diaboromon. This slows him down, allowing Omnimon to defeat him just in time. The missiles are diverted and land in a harmless area. The internet has been saved.
Interactive

Affiliates



Networks

PoeNet

Topsites

free hit counter


The title and content of this site is copyright Kendogarurumon ©2003-2006 unless posted otherwise. Please ask me before taking anything from the site, don't steal content. KDD is in no way affiliated with the creators of Digimon or the companies that have something to do with it.